What does it mean to be a Stripe Climate member?
As the state of the climate emergency continues to escalate, it can be tricky to know how to grow a business in a conscious and ethical manner. Years of corporate greed and negligence have driven our planet to it's breaking point. Thankfully, at this critical time, there are ways in which businesses can keep expanding while simultaneously caring for the environment.
Floom Creative are proud to be a member of Stripe Climate – a coalition of businesses working together to accelerate carbon removal by investing in promising new technology. Most new technology is expensive at first, but by aggregating funds from forward thinking companies around the world, we can help to lower their costs and scale up quickly. 
1% of our transactional value is directed to Stripe Climate, which is part of Floom Creative's mission to act responsibly as a business. Along with 25,000+ businesses, we truly believe we can play a critical role in combating climate change, and are proud to fund next generation carbon removal.
Stripe Climate works with a multidisciplinary group of scientific experts to find and evaluate the most promising carbon removal technologies. Below are some examples of their portfolio.
Climeworks
Climeworks uses renewable geothermal energy and waste heat to capture CO₂ directly from the air, concentrate it, and permanently sequester it underground in basaltic rock formations with Carbfix. Climeworks will remove 322 tons of CO₂ on behalf of Stripe Climate businesses.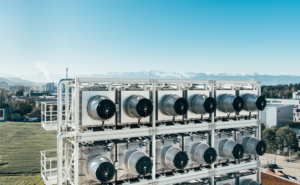 Charm Industrial
Charm Industrial has created a novel carbon removal pathway that converts biomass into bio-oil and then injects it deep underground for permanent geologic storage. Stripe Climate was Charm's first customer. In 2021, Charm removed 416 tons of CO₂ on behalf of Stripe Climate businesses.
Check out our Blog HERE
Follow us on socials: